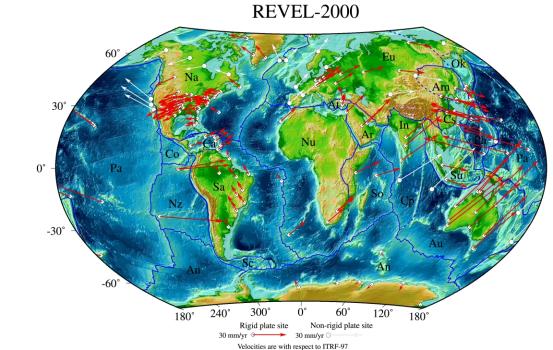 Figure 2.
Map of the world's major plate boundaries (light blue lines) with some GPS vectors (red and white arrows) showing relative motion. Plate names are shown with two letter short forms, e.g. Na is North America Plate, Ca is Caribbean Plate, Co is Cocos Plate. Map is in Winkel Tripel projection. Click to enlarge. (Sella et al., JGR, 2002)
If the boundaries were weak or frictionless, we probably would not have earthquakes. But friction at the boundaries of the plates causes them to stick together, at least for a period of time (sometimes hundreds of years). During this period, stresses build up, deforming the edges of the plates. Eventually however, the stresses build up to a point where they overcome the frictional strength of the rocks in the plate boundary zone, and the rocks snap back abruptly to their "pre-stuck" position. The abrupt movement of rocks constitutes the earthquake. The rapid motion of the rocks generates seismic waves much like rapid motion of your hand generates waves in a stretched out slinky. The seismic waves can travel around the Earth, sometimes causing damage far from the initial location of the earthquake. This process is nicely illustrated in a video from the IRIS web site (below).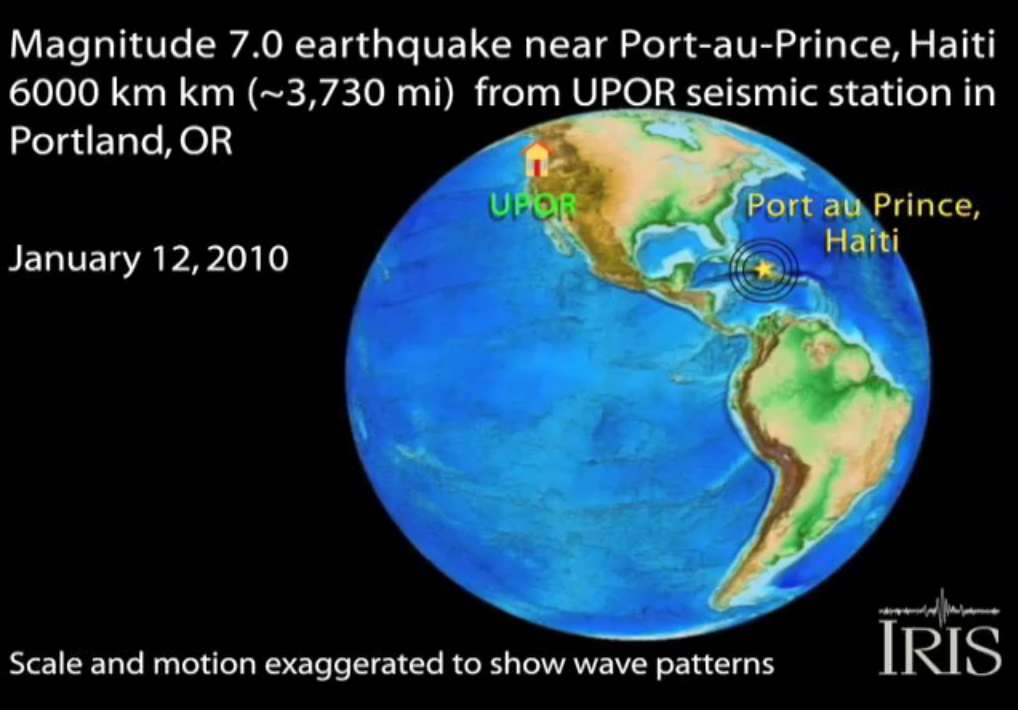 Figure 3. Cartoon showing propogation of seismic waves from the recent Haiti earthquake (courtesy of IRIS).

This simple explanation for earthquakes is often called the "stick-slip" hypothesis, and was first articulated in 1910 by H. H. Reid, a geologist studying the 1906 San Francisco earthquake. It can be illustrated with a brick and a spring. Put the brick on the floor and attach the spring to it (e.g., with duct tape). Slowly pull on the spring (this is the "stick" portion of the cycle) note that initially the brick does not move; it is "stuck" to the floor, due to friction. Your arm, which is doing the pulling, is simulating the slow, steady motion of the plates. Eventually, the stress in the spring builds to a point where it overcomes the frictional resistance, and the brick jumps forward (the "slip" part of the cycle which is the earthquake).